Quality
True Green Solar provides residential solar hot water solutions. Distributors of SunEarth systems, one of the most experienced solar thermal manufactures in the world. 32 years of engieering and design experience is built into each unit.
Energy Saving
Our solar hot water systems can provide up to 80% of the hot water you use for showering, laundry, cooking and other processes that utalize hot water. Cut your monthly electric bill by up to 40%!
Financing
No payments/interest for 6 months
100% unsecured financing
Quick, easy and safe process
No paperwork
No application fee, closing cost or prepayment penalties
The Value Leader in Solar Water Heating Technology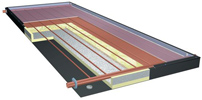 Empire Series Liquid Flat Plate Collector
America's leading distributors and contractors have made the SunEarth Empire Series liquid flat plate collectors the solar professional's first choice. The Empire Series has everything that professional contractors demand in a solar collector: sleek appearance, high performance, versatility, ease of installation, and rugged field-tested durability. SunEath's Empire Series collectors have over thirty-two consecutive years of engineering and design experience built into every product. The Empire Series collectors define quality and value in the North American market. Click Here for a Specification Sheet.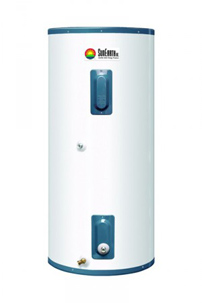 Storage Tank and Electric Storage Water Heaters
Available in 80 and 120 Gallon Side Connect and Top Connect Models
Brass drain valve
Single element water heater specially engineered for installation with residential direct solar systems
Special threaded stud located near the outlet for attachment of tank sensor
Temperature and pressure relief valve included
Side and top connect models available
Isolated tank design for better heat retention
High efficiency stainless steel heating element
Tank lining resists corrosion and prolongs tank life
Cold water dip tube brings cold water to tank bottom to prevent mixing with heated water
Anode rod equalizes aggressive water action for prolonged tank life
Cold water inlet, hot water outlet, relief valve and anode rod at top of tank for easy access and fast, economical installation
Automatic temperature control
Over temperature protector